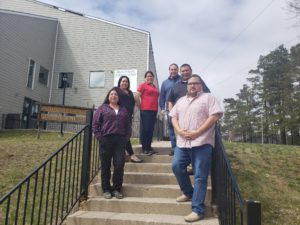 Your Trust Office is staffed with a dedicated team who manages and administers all of the revenue created by the Niigaaning G'Chimnissing Trust through the Nookmis Revenue Account. The Trust Team adhere to the financial policies and procedures set out by the Beausoleil First Nation (BFN) administration, to manage and administer the revenue generated by the Trust.
It is through the creation of the Trust and Nookmis we work to ensure individual/communal success stories that create sustainable and meaningful growth for our community and membership. Your Trust Office has an annual independent audit as well as quarterly reporting meetings to show exactly how the generated income is being spent.
Each member of the Trust Office Team has specific duties and functions, which you can learn more about by simply clicking on each job title for a complete list of their role and responsibilities.
---
OWEN MONAGUE
Trust Comptroller
P. 705-247-8990
E: trustcomptroller@chimnissing.ca
---
JOSEPH STUP
Communications Officer
P. 705-247-8989
E-mail: communications@chimnissing.ca
---
TORI CRESS
Nookmis Program Coordinator & Communications Support
P. 705-247-8982
E. toricress@chimnissing.ca
---
PAULINE COPEGOG
Bookkeeper
P. 705-247-8961
E: pcopegog@chimnissing.ca
---