Aaniin, Boozhoo Chimnissing!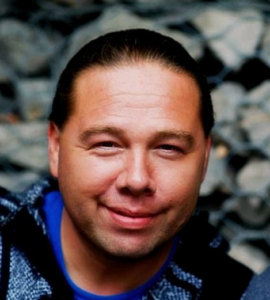 It is with great pleasure that I inform you, that I, Clayton King,  have been hired as your new Heritage and Cultural Coordinator.
For those of you that don't know me, I have been a practicing artist for the past ten years. I had studied Fine Art at Fanshawe College in London, ON. from 2007-10, and also received certification as an Aboriginal Cultural Ambassador in Ottawa in 2012. In 2015/16 I was the Treaty and Historical Researcher/Archivist for BFN.  For the last two years I had the privilege to serve you as a BFN Band Councillor. During these educational and employment experiences I had received valuable training and experience in conducting research that has further enhanced my knowledge of processing, cataloging and archiving historical and cultural information and utilizing it for the betterment of Beausoleil First Nation.
As an artist by trade, our culture and heritage has been running parallel with my creativity ever since I returned to my talent. Throughout the years, my knowledge of the history of Beausoleil First Nation has been obtained through the research and curiosity of my family history and traditions.
As the first Treaty and Historical Researcher/Archivist for the Niigaaning G'Chi Mnissing Trust Department in 2015/16, my research continued beyond the scope of family research and carried through our own history as well as several other First Nation Communities history's in which we have had close ties with through kinship and treaty making.
As the new Heritage and Cultural Coordinator for the Niigaaning G'Chi Mnissing Trust Department my duties will be to:
Establish a Heritage and Cultural Advisory Committee and terms of reference for the committee
Continue researching our ancestral land interests and updating/managing our land claim and treaty research files
Identify, develop & implement BFN heritage/cultural interests & activities
Investigate, implement & maintain an up to date digital archival system and establish and maintain an inventory of information, documents, maps, sacred items and artifacts, etc…
Produce historical and educational materials for the community
Create public presentations of the historical data that has be acquired
Research, document and develop/showcase historical community interests, practices, ceremonies and special events, including cultural sites and interests
Be an advisory resource in the development of any community strategies that will need historical, cultural and heritage information
Help establish a G'Chiminissing Heritage Lodge that will highlight the historical narrative of B.F.N.'s history, as well as to integrate a showcase venue for our artists, crafters and cultural items for exhibit and display
I welcome this wonderful opportunity to help share with the community the skills and knowledge I've acquired throughout the last decade. I look forward to working with the community, and to do my part in contributing to BFN's proud heritage and culture.
Miigwech,
Clayton Samuel King
Heritage and Cultural Coordinator
11 Ogemaa Miikaan
Christian Island, On
L9M 0A9
Phone: (705) 247-2051